Watch fantastic 3D preview of "Star Wars Episode I: The Phantom Menace" converted to 3D!
01.07.2011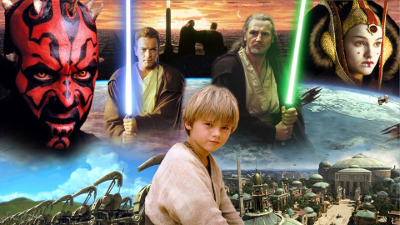 Can't wait for 3D re-release of the first episode of George Lucas' epic space opera? We neither!
The huge 3D premiere of "Star Wars Episode I: The Phantom Menace" is set for February 10, 2012 and that's, we must say, quite a long time to wait... So to keep you intrigued on the apparently fascinating outcome of George Lucas co-operation with the guys from Prime Focus on the 3D conversion we offer you to imagine how Anakin Skywalker would be podracing in anaglyph 3D.
To see the stereo effect just put on anaglyph red-blue 3D glasses and enjoy the video below!
To convert any video to HQ 3D format try powerful 3D Video Converter! Don't hesitate and get your free trial version now!. Enjoy any format video in glorious 3D yourself with 3D Video Player instantly.Download free trial here!
Get your social on:
Tweet
Read Next -> Apple goes with auto-3D display for its iPad3. No doubt
<- Back to 3D Media Revolution Blog