Steve Jobs biopic may be written by "The Social Network" Aaron Sorkin
24.11.2011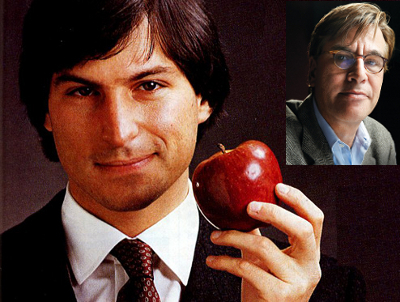 The screenwriter of David Fincher's "The Social Network" has received an offer from Sony to adapt Steve Jobs biography into a feature film. E! Online reports that Award-winning screenwriter Mr. Sorkin is "strongly considering" the offer.
"Sony has asked me to write the movie and it's something I'm strongly considering," said Sorkin at a recent industry event in Santa Monica, California. As we know Sony recently acquired the rights to Walter Isaacson's biography of Steve Jobs, who died at the age of 56 in early October from pancreatic cancer.
"Right now I'm just in the thinking-about-it stages," Sorkin said. "It's a really big movie and it's going to be a great movie no matter who writes it. He was a great entrepreneur, he was a great artist, a great thinker."
Personally we think Aaron Sorkin is the most suitable candidate for this job. Having won an Oscar earlier this year for "The Social Network", which brilliantly tells the story of Mark Zuckerberg and the early days of Facebook we think that Sorkin can do no wrong working on Jobs biopic.Your thoughts?
Watch regular 2D videos in 3D using powerful 3D Video Player! Put on red-cyan 3D glasses and enjoy converted 3D videos and movies in anaglyph 3D with your family and friends any time you like. Convert "flat" videos to HQ 3D format using fast 3D Video Converter. Download both programs for free and start watching regular videos on your PC or any hardware device in magic 3D!
Get your social on:
Tweet
Read Next -> Must Watch in 3D: Top 20 Movie Premiers of Autumn 2011
<- Back to 3D Media Revolution Blog