Must Watch in 3D: Top 20 Movies of Summer 2012
11.05.2012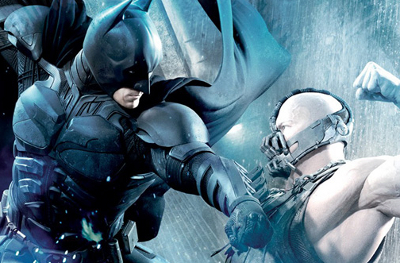 This year is full of awesome movie releases, so we've made a list of top 20 films that we advise you to watch in 3D this summer. The top 20 list includes the most anticipating movies of summer 2012 starting from
"The Dark Knight Rises" and "Prometheus" to action-packed
"The Expendables 2" and "G.I. Joe: Retaliation", and many other.
Read our brief reviews and enjoy the trailers in HD and get ready for amazing 3D summer!
Piranha 3DD (June 1)
"Twice the terror. Double the D's." The upcoming summer comedy-horror "Piranha 3DD" is a follow-up to 2010's film "Piranha 3D" directed by Alexandre Aja. The sequel follows the swarm of predatory piranhas that heads from the earlier feast at Lake Victoria to a local water park "Big Wet", where friends Maddy, Barry and Kyle must challenge bloodthirsty amphibians. Shot in 3D by John Gulager "Piranha 3DD" stars: Katrina Bowden, Danielle Panabaker, David Hasselhoff, Ving Rhames.
Apartment 143 (June 1)
Our list of top 20 movie premieres of 2012 won't be full without a decent horror. So "Apartment 143" from Spanish director Carles Torrens fits the criterion. The film centers on a team of parapsychologists who investigate a series of anomalous phenomena in the apartment #143. They use cutting-edge technology and devices with an attempt to contact the dark powers, but instead find themselves in more and more danger.
Snow White and the Huntsman (June 7)
Earlier this year you might have already seen Tarsem Singh's take on the story of Snow White in the charming comedy "Mirror, Mirror". In June we'll see a completely different re-telling of the classic fairy tale from director Rupert Sanders titled "Snow White and The Huntsman". The synopsis: one day the Evil Queen Ravenna (Charlize Theron) discovers that there's a person in the kingdom fairer than her - Snow White (Kristen Stewart). She orders the Huntsman (Chris Hemsworth) to find and murder the young and innocent woman. The Huntsman couldn't do that, and instead he trains Snow White to vanquish Ravenna. The adventurous fantasy is action-packed and full of special effects, so we highly recommend to watch it in 3D.
Prometheus (June 8)
Directed by the master of sci-fi movies Ridley Scott, "Prometheus" has automatically become one of the most anticipating films of this year. First of all the upcoming sci-fi horror has a great cast of actors: Noomi Rapace, Michael Fassbender, Charlize Theron, Idris Elba, Guy Pierce and Logan Marshall-Green. But what makes it worth waiting for even more is the film synopsis that promises us the thrilling sci-fi story of no less than "Alien" standard. So the film centers on "Prometheus", the spaceship with a team of scientists on board that sets on a journey through the universe to investigate unknown forms of life and clues to the origins of life on Earth. When they reach the darkest parts of an Alien world it becomes clear that they must not only try to survive, but also save the human race from a horrifying threat.
Madagascar 3: Europe's Most Wanted (June 8)
Get ready to the funniest cartoon of this summer! "Madagascar 3: Europe's Most Wanted", the sequel to the beloved animation, takes Alex, Marty and Gloria to Europe, where they travel under cover in a traveling circus in order to finally get home to the Big Apple. The voice cast includes Ben Stiller, Jada Pinkett Smith and Chris Rock.
Rock of Ages (June 15)
Would you like to see Tom Cruise singing as a rock star? Then you must definitely watch "Rock of Ages", the musical directed by Adam Shankman. The film is set in 1987 Los Angeles and tells the story of Sherrie and Drew who fall in love with each other, but soon their love faces a number of challenges in the big city. "Rock of Ages" also stars Catherine Zeta-Jones, Russell Brand, Malin Akerman, Alec Baldwin and Mary J. Blige.
Abraham Lincoln: Vampire Hunter (June 22)
We bet you couldn't imagine the 16th President of the United States fighting vampires, could you? Russian filmmaker Timur Bekmambetov has stepped the territory of the horror fantasy with exactly this daring plot in mind. As the result we'll soon be watching a thrilling, action-packed story of Abraham Lincoln (Benjamin Walker) on a mission to eliminate vampires who killed his mother and are going to invade his native country. The film also stars: Dominic Cooper, Rufus Sewell and Mary Elizabeth Winstead.
Brave (June 22)
Another wonderful animation coming to theaters this summers is "Brave" from Disney/Pixar, the story of red haired Princess Merida. Beautiful and rebellious, Merida goes against the will of her parents to make her own path, but soon finds herself challenging a curse.
To Rome With Love (June 22)
After wonderful romantic comedy "Midnight in Paris" director Woody Allen has decided to make an ode to another stunning European city – Rome. "To Rome With Love" is about romances and adventures of different people in this Italian city. Some of them are residents and some are visitors, but all of them have two things in common: Rome and love. The comedy stars Woody Allen, Penelope Cruz, Jesse Eisenberg, Ellen Page, Alec Baldwin, Roberto Benigni and Ornella Muti.
G.I. Joe: Retaliation (June 29)
The action-adventure "G.I. Joe: Retaliation" is a sequel to 2009's "G.I. Joe: The Rise of Cobra" that follows the G.I. Joe Team fighting Zartan, Firefly and Storm Shadow, who serve Cobra. The existence of all the G.I. Joes is under threat like never before. Directed by John M. Chu the film stars Dwayne Johnson, Bruce Willis, Channing Tatum, Ray Park, Adrianne Palicki and RZA. It's very action-packed, so must watch in 3D.
Magic Mike (June 29)
Stripping Channing Tatum, Alex Pettyfer and Matthew McConaughey – that's something that ladies would definitely love to see on the big screen, including your girlfriend. The comedy "Magic Mike" is directed by Steven Soderbergh (Contagion, Haywire) and tells the story of veteran stripper Magic Mike (Tatum) who'd like to give up his work and find some new, decent occupation. He teaches the newcomer The Kid (Pettyfer) how to make easy money and pick up girls working at the club Xquisite run by the former stripper Dallas (McConaughey).
The Amazing Spider-Man (July 3)
The upcoming superhero film "The Amazing Spider-Man" centers on Andrew Garfield's character Peter Parker aka Spider-Man. The teenage boy tries to understand why his parents disappear when he was a child, as well as tries to win the heart of his crush Gwen Stacy (Emma Stone). Soon Peter discovers his dad's briefcase that leads him to Dr. Connors (Rhys Ifans) and the story of becoming "Spider-Man" begins.
Ice Age: Continental Drift (July 13)
Manny, Diego, and Sid are back! This time the adventure of three friends begins when their continent is set adrift. They use an iceberg as their vehicle to explore the world. What's waiting for Manny, Sid and Diego during this dangerous journey? Pirates and even more!
Ted (July 13)
How about a funny light comedy in the hot July? "Ted" is exactly that kind of a movie. Starring Mark Wahlberg and Mila Kunis, the film tells a story of a young man and his teddy bear. What teddy bear? The one he wished for as a kid and the teddy bear that one day comes to life. Mila Kunis plays the love interest of Wahlberg's character.
The Dark Knight Rises (July 20)
The Most Anticipated Film of 2012. The final installment in Christopher Nolan's "Batman" film series. Fantastic cast of actors that includes Christian Bale, Tom Hardy, Anne Hathaway, Gary Oldman, Marion Cotillard, Joseph Gordon-Levitt and Morgan Freeman. $250 million budget. Amazing special effects. Music by Hanz Zimmer. Those are all the elements of an epic movie to surely blow our mind!
The Watch (July 27)
Previously known as "Neighborhood Watch" the comedy "The Watch" follows four dads (Ben Stiller, Vince Vaughn, Richard Ayoade) who decide to defend the Earth from an alien invasion. The screenplay is written by Seth Rogen (Green Hornet). "The Watch" is directed by Akiva Schaffer.
Total Recall (August 3)
Being the remake of the popular 1990 film of the same name, "Total Recall" stars Colin Farrell as Douglas "Doug" Quaid/Hauser, a factory worker who suspects he's a spy but his personality and memory were erased and replaced. The film is set during the fight for political supremacy between Euroamerica and New Shanghai, so Douglas doesn't know which side he supports in this fight. The cast of this sci-fi remake also includes: Jessica Biel, Kate Beckinsale, Bill Nighy, Bryan Cranston, Ethan Hawke. Directed by Len Wiseman.
The Bourne Legacy (August 3)
Action spy thriller "The Bourne Legacy" is the fourth installment in "Bourne" film series. The sequel doesn't star Matt Damon in the movie, because the film is not about Jason Bourne but the consequences of his actions. "The Bourne Legacy" stars Jeremy Renner as CIA operative and the main character of the film, Rachel Weisz, Edward Norton, Joan Allen. The film is based on the novel "The Bourne Legacy" by Robert Ludlum and Eric Van Lustbader and directed by Tony Gilroy.
The Expendables 2 (August 17)
Filled with testosterone to the fullest "The Expendables 2" is a sequel to the 2010 action movie "The Expendables". The upcoming film is directed by Simon West and stars Sylvester Stallone, Liam Hemsworth, Jason Statham, Chuck Norris, Arnold Schwarzenegger, Jean-Claude Van Damme, Jet Li, Dolph Lundgren, Bruce Willis and Charisma Carpenter. In the film the Expendables team steps in enemy territory, seeking revenge against Jean Vilain (Jean-Claude Van Damme) who brutally killed one of their brothers.
ParaNorman (August 17)
New 3D animated movie from Laika studio (Coraline, Corpse Bride) tells a story a misunderstood boy Norman Babcock from the small town Blithe Hollow. The boy can speak with the dead and this ability helps him to save Blithe Hollow and its residents from an old witch's curse. The cartoon is dark, but really funny, so don't miss it in 3D!
Convert regular 2D movies to amazing 3D using professional 3D Video Player! Enjoy watching favorite movies in anaglyph 3D on PC, iPod, TV, PSP and many other devices. You can convert any video to HQ red cyan 3D format by means of super fast 3D Video Converter. Try both apps for free for 7 Days! Watch videos and movies in magic 3D!
Get your social on:
Tweet
Read Next -> "Deepsea Challenge" Accepted
<- Back to 3D Media Revolution Blog