Mind Your Health When Using World's First Glasses-Free 3D Laptop
11.08.2011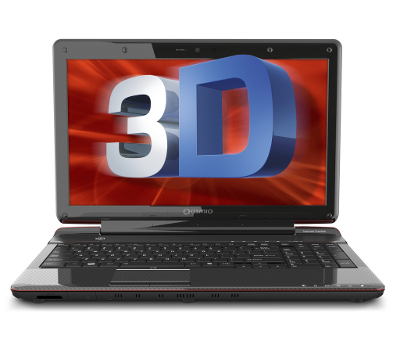 On Tuesday 9th August, 2011 Toshiba has announced its new Qosmio F755 3D laptop, which uses the latest auto-stereoscopic display technology. In other words, the laptop is capable of displaying glasses-free 3D and 2D content on one screen. Although being "the world's first glasses-free 3D laptop" Qosmio F755 3D has some potential health risks. What are they?
In the official press release Toshiba proudly claims its laptop specifications while in the footnotes some potential health risks are also stated:
"Due to the possible impact on vision development, viewers of 3D video images should be age 6 or above. Children and teenagers may be more susceptible to health issues associated with viewing in 3D and should be closely supervised to avoid prolonged viewing without rest. Some viewers may experience a seizure or blackout when exposed to certain flashing images or lights contained in certain 3D television pictures or video games. Anyone who has had a seizure, loss of awareness, or other symptom linked to an epileptic condition, or has a family history of epilepsy, should contact a health care provider before using the 3D function."
The list of health risks goes on in the disclaimer "3D Viewing: Important Safety Information", which can be found on Toshiba's website:
"If you or any viewer experiences the following symptoms or any other discomfort from viewing 3D video images, stop viewing and contact your health care provider: Convulsions, Eye or muscle twitching, Loss of awareness, Altered vision, Involuntary movements, Disorientation, Eye Strain, Nausea/Vomiting, Dizziness, Headaches, Fatigue."
Are you impressed with this list? So are we. And we're also excited about this innovation from Toshiba, which is a real breakthrough in auto-stereoscopic 3D. But anyway we think it's important for the company to provide such important information concerning health risks of its products not only in the footnotes. What do you think?
Qosmio F755 3D laptop will be available in mid-August 2011.
Enjoy any video in anaglyph 3D format with 3D Video Converter! Just put on anaglyph red-cyan 3D glasses and convert favorite video or movie to HD 3D video. Download your free trial version and start enjoying 3D experience now! If you want to watch any video in 3D format on the fly you can do that with powerful 3D Video Player. Get your free trial of 3D Video Player now!
Get your social on:
Tweet
Read Next -> How to choose anaglyph 3D glasses right: handy color type comparison
<- Back to 3D Media Revolution Blog