James Cameron takes up "Deepsea Challenge"
15.03.2012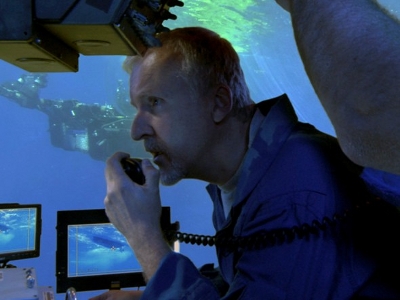 Besides helming the award-winning "Titanic" and "Avatar" a pioneer in underwater camera technology (yes, he is) James Cameron has also directed 3D documentaries "Ghosts of the Abyss" and "Aliens of the Deep", exploring the mystery of life deep in the seas and the oceans. Now Cameron is heading to shoot another 3D documentary called "Deepsea Challenge".
This time James Cameron and his team will explore the world's deepest point – the Mariana Trench. Here's what the director says himself:"The deep trenches are the last unexplored frontier on our planet, with scientific riches enough to fill a hundred years of exploration. National Geographic, which has been exploring the world for nearly 125 years, is the ideal partner to help usher in a new era of deep-ocean research and exploration that supports leading scientific institutions in answering questions about the deepest, unexplored parts of the Earth. Our goal is to build a scientific legacy for generations to come. It's also to inspire people across the globe to celebrate exploration and to explore with us online and through the media we produce."
The 3D documentary "Deepsea Challenge" is being made for National Geographic Channel. Would you like to see it in theaters in 3D?
Enjoy watching any of your regular 2D videos in spectacular red cyan 3D format whenever you like using first-class 3D video software: 3D Video Converter and 3D Video Player. Free trial versions are available for download: 3D Video Player and 3D Video Converter!
Get your social on:
Tweet
Read Next -> The official trailer for "Star Wars: Episode 1 – The Phantom Menace 3D" now in red cyan 3D!
<- Back to 3D Media Revolution Blog