Chinese 3D porn film beats Avatar's record on opening day in Hong Kong
20.04.2011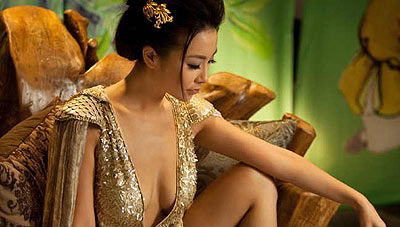 On 14th April movie-goers packed cinemas across Hong Kong to see the world's first 3D porn film "Sex & Zen: Extreme Ecstasy". According to The Times of India many in the crowd were office workers, retirees and students. They were really excited to see an X-rated film on the big screen. "I'm not much of a movie-goer, but this one is just too good to miss", 32 year-old Justin Lai told AFP as she waited at a cinema in Causeway Bay entertainment district.
Softcore film "Sex & Zen: Extreme Ecstasy" is set at the court of Ming-dynasty ancient China and tells the story of a young man who, after being introduced to the erotic world of an aristocrat, realizes his ex-wife is the love of his life. Rated "category III" (cannot be seen by under-18s) by Chinese censors this movie has sparked strong interest in many Asian markets, including South Korea and Japan, as well as United States and Europe.
And as the result of its opening day this $3.2-million Cantonese-language adult movie brought in 2.79 million Hong Kong dollars (around $360 000), according to the Hong Kong Motion Pictures Industry Association. That beats out James Cameron' sci-fi adventure Avatar, which opening day grossed HK $2.5 million.
Sex sells, and it seems that sex in stereoscope is twice as marketable.
Try out 3D experience yourself! To convert any video to HQ 3D format you can use powerful Video to 3D Converter -get your free trial version now. You can also watch any format video in glorious 3D with 3D Video Player instantly. Try it for free!
Get your social on:
Tweet
Read Next -> Hey Jedis, get ready for winter 2012!
<- Back to 3D Media Revolution Blog