3D Media Revolution or How 3D video goes social
22.04.2011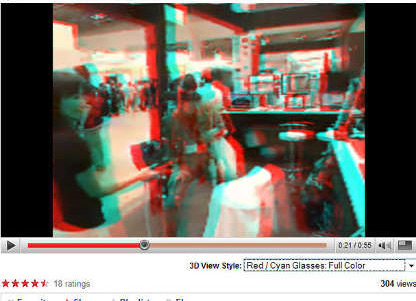 Era of two-dimensional video content is soon over, predict analysts. We're likely to agree.
Today social media users are in search of not just an interesting info to share with friends, but a great "buzzy" content that will get spread in social networks in secs and get desirable views, likes and retweets. Most often it happens that users are tired of surfing the net non-stop in search of such irresistible video content. That moment they decide to create it themselves by becoming video creators, in other words - amateur movie makers. What do we get as a result of their creativity? A new definition of amateur video of the 21st century – Home Video 2.0.
Creative DIY music videos, funny pets dancing, friends remakes of popular blockbusters or just a life moment captured, edited and posted in social media is known as Home Video 2.0. The latest trend in Home Video 2.0 are 3D home videos - videos converted from 2D to 3D by means of special software. Such videos can be watched only in special anaglyph 3D glasses but they're not difficult to make. According to statistics professional and amateur 3D videos together already comprise more than a million uploads on the world's biggest video-sharing website Youtube. Most popular of them have millions and millions of views and the tendency for uploading amateur 3D videos is only on rise. So maybe this is the start of a new revolution in video content – 3D Media Revolution?
Sceptics will say that technology of 3D video conversion won't be widely used by masses, because of its supposed impracticalness. But wait a minute. 3D technology is already older then some of the sceptics together: next year the technology of anaglyph vision will celebrate its 122 birthday! It is still on track, gaining more and more fans from both sides of the screen.
So sit back, relax, put on your 3D glasses and join the 3D Media Revolution.
Try out 3D experience yourself! To convert any video to HQ 3D format you can use powerful Video to 3D Converter - get your free trial version now. You can also watch any format video in glorious 3D with 3D Video Player instantly. Try it for free!
Get your social on:
Tweet
Read Next -> Brave 3D future: James Cameron predicts 100% technology expansion by 2016
<- Back to 3D Media Revolution Blog