3D Guide for amateurs: how to make your 3D glasses
17.04.2011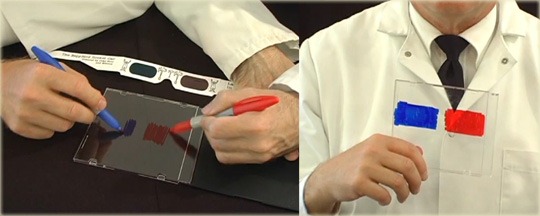 Would like to watch 3D video at home using 3D Video Player, but don't have special 3D glasses at hand? No problem, amigo. Here's our simple advice on how to make anaglyph 3D glasses almost in two twos!
HOW TO MAKE 3D GLASSES IN 10 SEC
You'll need a transparent CD jewel case and two markers: red and blue.
Scribble blue (on the right) and red (on the left) marker on the CD jewel case about the width of your eyes. Now watch any anaglyph image or 3D converted video through the CD jewel case with your left eye looking through the red area and you right one through the blue. That's it! To convert any 2D video to 3D you can use 3D video player. Free download is available here. Enjoy!
HOW TO MAKE 3D GLASSES (ADVANCED)
You'll need paper, pencil, sturdy cardboard, scissors, tape, sheet of red and blue acetate (available at craft stores).
1. Download basic PDF pattern for your glasses from NASA (yes, they know for sure how it all works)
2. Print and cut it out. Check if your eyes and nose fit.
3. Trace your stencil on the cardboard and cut it out – don't forget the eye holes! Then tape the arms to the frame front and customize your glasses. We recommend to use glue.
4. Cut out a piece of red and blue acetate for glasses lenses, each should be larger then original eye hole. Tape a piece of acetate over each eye hole - blue over the right and red over the left.
5. Test you glasses. View any image from 3D images album on our Facebook page or view this lovely video with lions
Try out 3D experience yourself! To convert any video to HQ 3D format you can use powerful Video to 3D Converter - get your free trial version now. You can also watch any format video in glorious 3D with 3D Video Player instantly. Try it for free!
Get your social on:
Tweet
Back to 3D Media Revolution Blog